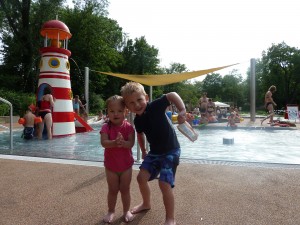 On day 14 we took it a bit easy with a day at the pool. The public pools in Munich are wonderful and have some fun features like water playgrounds, whirlpools and slides best of all they only cost 3.50 to get in! If we had had more time and better weather I would have spent more time exploring all the public pools. I found this great website with a summary (in English!) http://www.inside-munich.com/outdoor-swimming-pool.html of all the different pools. This day we visited Dante Sommerbad.
We finished the day with a family favorite, strawberry quark for dinner. Nallia is a BIG fan!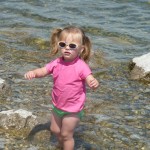 With the forecast predicting it was going to start to rain we headed to the lake for a last bit of sun on Friday. Starnberg See is the most picturesque lake I have ever seen.  We took the train there and then walked along the sore finding a great playgound for the kids and then a dock. We just hung out at the sore for a few hours, then headed for lunch and ice cream. To finish off the day we rented a paddle boat and it seemed no matter how hard we paddled we didn't really go very far but it was really a wonderful place to just be.
Day 16 it officially started to pour rain. Nallia and I went shopping with the girls and stopped for a coffee at a Starbucks before going in to Dalmyer (http://www.dallmayr.com/). It was a fun little shop that all my foodie friends would love with specialty sweets, deli items and coffees.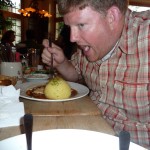 While we were off shopping Drew, Bryson and my cousins went to Kung Fu Panda 2. Nothing like going around the world to see an American movie JÂ  For dinner we went to another Bavarian restaurant on our search for the perfect kaiserschmarn. I ended up splitting one with my sister that was made with dried plums and as you can see Drew had a giant kanoodle.
Sunday was another day of pouring rain and to top it off almost everything is closed on Sundays including the grocery stores and shops. We found a bowling ally that was open and jumped at the chance to get out of the house. It was the kids first time bowling and they really enjoyed it.  Nallia was just barley strong enough to ge the ball down and hit any pins and as always Drew beat up all with only my sister giving him any kind of a challenge.
Monday was our last full day in Munich, we had an early morning at the zoo. We saw lots of animals including a bat exhibit where the bat are free to fly around you and even land on your head! We met the rest on the family for a very late lunch and more kaiserschmarn, in an open-air café and some last minute souvenir shopping.
We spent the evening packing, eating and saying goodbyes and with 4 hours of sleep we hit the road Tuesday morning. This late in June the sun was raising before 5am as we drove our of Munich. We got into to Frankfurt early with little traffic, returned the car, checked our bags and took the train into the city to have a look around. We had our last pretzel and got some snacks for the plane. About noon we were headed back to the airport and then had a smooth flight back, all 11 hours!