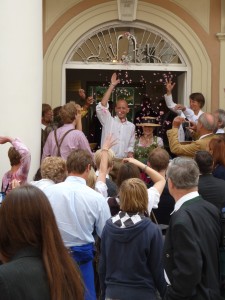 After arriving in Munich we had dinner with all the family that came for the wedding. We ended up being 24 people filling a small living room. On Thursday we went shopping in Marienplatz and had lunch at the Ratskeller. For dinner Nallia and I went to my cousins bridal shower and the boys went to a Biergarten. Nallia had a wonderful time, she even got her toenails painted for the first time.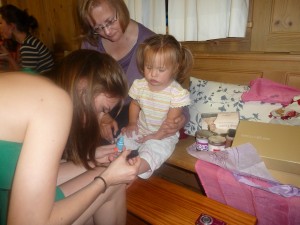 Friday was my cousin's civil ceremony. In Germany the civil ceremony at the court house is more elaborate and for some people this is simply the wedding. For my cousin they choose to have the civil ceremony in traditional Bavarian dress and then hosted a lunch at the English Garden.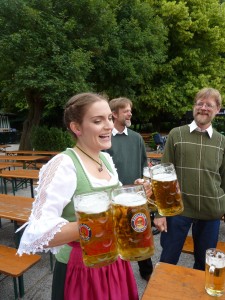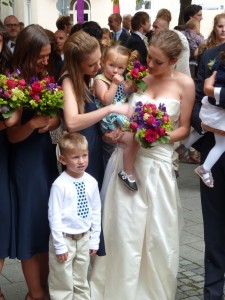 Saturday was the big day. My cousin, Rebecca, and her boyfriend Moritz have been together for almost ten years. The wedding at the church was very beautiful and traditional with the best ring barer and flower girl in the world 🙂 At the last moment a family friend burst out with a joyful gospel song. It was a get-out-of-your-seat-and-sing song with everyone clapping and dancing. Needless to say this took some of the Germans by surprise! It was all arranged by my Rebecca's sister. Outside of the church there was a champagne reception and pictures. We then took a shuttle to Gaertnerei, http://www.die-alte-gaertnerei.de/. This was the most amazing wedding site I have ever been to. It was truly straight out of a book or magazine. It is several old green houses, decorated inside. When we arrived we enjoyed a cake reception with ten different cakes accompanied by an espresso bar. About 8pm we moved to the next green house for dinner. It was quite an adventure to chat with the international crowd. Guests came from Canada, the US, Austria, Spain, Italy, China and several other countries. After an amazing dinner there were games for the couple and they "earned" several prizes for the honeymoon they are spending in Hawaii. Then we had breathtaking dessert that included berries on Kaiserschmarn. During the dinner slides of the two of them played in the background, I must admit there were a few funny ones of me with my cousin as children. At about 10 dancing started and of course Rebecca and Moritz took lessons and make it look easy. After a few sweet dances the DJ fired up. Our kids passed out in our arms about 12am and slept on a couch in the back of the room. At 1am they served a hot soup, I was not up for it with a very full belly and sore feet but everyone else said it was super yummy. So around 2:30am Nallia started to wake and we headed back. What a fun and long day!
The next morning we met up with Moritz and his family for brunch. As I was getting Nallia dressed I noticed a tick on her chest!!! Not so thrilled I was a little freaked out. But the family reminded me, "Thank goodness she married a doctor!" Just before brunch was served Mortiz, his brother and his father (also doctors) got the tick out without any trouble. It was a tiny little bugger so it took us all to hold her still. After brunch we took a walk along the banks of the Isar and took family pictures.